Supercar Blondie became the most-watched Facebook page and Automotive channel on Youtube. That is due to having an incredible team around her and Nik. Supercar Blondie team members supports Alex Hirschi by creating different content and having much more fun.
You can watch their TikTok profile and discover what a wonderful, friendly team Supercar Blondie has.
Let's meet Supercar Blondie Team members with some interesting facts about them.
MEET THE TEAM
Behind the scenes team helped her become a successful Vlogger/blogger quickly. Her team also comprises many nationalities, which shows unity among each other.
Before Jumping in You might like to read this as well: Why does this YouTuber blame Supercar Blondie?
Nik Hirschi
Most important and the main partner is her husband, Nik Hirschi. He is also the Co-founder and CEO at Supercar Blondie, starting in 2017.
For the first three years, only Alex and Nik, behind the camera, built the Supercar Blondie channel together.
And also, Nik is such a romantic and caring husband. He surprised Alex on 2018 Valentine's day. Have you ever seen a Ferrari 488 covered with 1000 roses?
You can find more photos and videos in his Instagram profile @NIKCARS
In 2021 Alex Hirschi created an incredible team to be around Alex and Nik while being more supportive and creating more content. They are,
Kate Bain
Kate Bain is Supercar Blondies' sister. She has been the Content Manager for the Supercar Blondie team since September 2020.
She has such a cute dog, 'THOR,' and watch Its cute video below. It will make you fall in love with him.
You can find more photos and videos in her Instagram profile @itskatebain
Nathan Bain
Nathan Bain is Kate Bain's husband. He loves reading and works as Supercar Blondies' Project Manager/ Video Producer.
Nathan is such a smart person who always meets up with deadlines as well as he has tremendous organizational skills. He made Supercar Blondie participate in the SOAPBOX race in London for the first time. You can see how dedicated and motivational he is when it comes to working by watching the following video.
In addition, he is also such a funny guy to hang out with. Watch this hilarious video on how he and Kate had a memorable Halloween day with Alex.
You can find more photos and videos in his Instagram profile @ballerbain
Sergi Galliano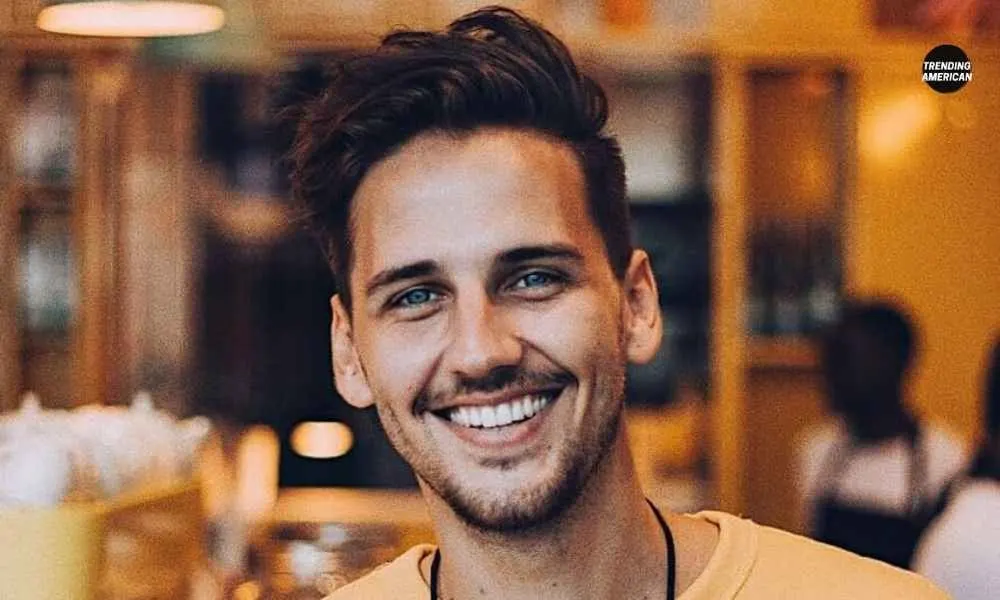 Sergi is working as the Creative Director at Supercar Blondie Team, starting in April 2020. He is responsible for planning, executing, and monitoring unique content for the global audience.
Sergi has worked with Supercar Blondie for a few years but officially joined the team in 2020. He was a dedicated and much-needed person for the channel to succeed. Hence, Alex surprised him with a token of appreciation for all the positive energy he brought to work.
Also, you can see Sergi's trustworthiness as a friend by watching the following video. In that video, he surprised Domi with Thomas by using 30000 petals and a hypercar.
You can find more photos and videos in his Instagram profile @sergi.galiano
Inka Lacovic
Despite being new to the team, Alex finds her amazing for her work ethic and her excellent communication and listening skills.
Therefore, Inka Lacovic is currently working as the Operations Manager at Supercar Blondie starting from the 2020-year end.
Even though she joined a supercar channel, she didn't have a car license. But she was lucky enough to go to Dubai's Millionaire VIP driving school. They ensure students get a license within a week with a supercar collection they got.
You can find more photos and videos in her Instagram profile @inka.lck
Laura Lukosiute
Laura Lukosiute is working as the Human Resource Business Partner at Supercar Blondie team starting in June 2022. She also has experience as an H.R. Administrator and recruiter by working at many reputed organizations such as SAP Landscapes, Google, and Bit Oasis, where she worked before joining hands with Supercar Blondie.
She has a B.Sc. Degree in B.B.A Business and Management at the Maynooth University of Ireland. In addition, she completed her CIPD Certificate of Human Resource Management at the National College of Ireland.
You can find more in her LinkedIn profile @lauralukosiute123
Clair De Valk
Clair De Valk currently works as a Client Partnership Manager at Supercar Blondie, starting in May 2022. Before joining Supercar Blondie's, she worked as the Area Manager at Benelux.
Most importantly, she has a beautiful voice with a talent for singing that can make everyone hypnotized.
You can find more photos and videos in her Instagram profile @clairmarisa
Mohammed Fota
Mohammed Fota holds a BSS Degree in Information Technology from AL HUSSEIN BIN TALAL UNIVERSITY to enhance his professional qualifications in I.T.
Currently, he works as the I.T. Manager at Supercar Blondie. In contrast, he worked as the I.T. Manager at Prisme before joining Supercar Blondie.
You can find more from his LinkedIn profile @mohdfota
Dominika Sofroniciova
Dominika Sofroniciova joined Supercar Blondie as a Presenter on November 2021. Even though it's only been a year, her car reviews can take the viewers to the next level.
You can find more videos and images on her Instagram profile @domi.sof
So, to sum it up
In terms of strengths behind the scenes, these are the people responsible for making Supercar Blondie a success. No matter what your path is, the key to success is teamwork.
FAQs
What is Supercar Blondie's sister's name?
Her name is Kate Bain and she is the Content Manager of the Supercar Blondie team.
Where is Supercar Blondie's headquarters?
Supercar Blondie runs her business from Dubai, United Arab Emirates.
Related articles