Hey there, food adventurers! You could be a fast food lover who is ready to explore strange fast food. Having an extraordinary food escapade from your busy life would be worth it. But we know that your good health is still your top priority. So, learning more about the food will help you to either try out or reject it.
Imagine a world where bubblegum collides with ice cream, and where lobsters find their way into drive-thru windows. Yes, we're going to explore the not-so-usual world of McDonald's and its weirdest menu items! Would you love or hate them? Let us know in the end!
Here are the 10 weirdest menu items that you will either love or hate :
1. The McLobster
This is a seasonal item available in the New England region of the United States. This lobster roll consists of lobster meat, mayonnaise, and celery. McDonald's serves this in a style of its origin: toasted roll with a bed of crisp lettuce. Priced at $8, it offers '100 percent real North Atlantic lobster' and a flavorful mayonnaise dressing. Based on the reviews across the internet, we can say this is a great item for many.
2. McRice Burger
Want to feel the Asian love for rice? This rice-inspired food swaps out the bread bun for rice cakes! It offers a lighter and less-carb– alternative perfect for those looking to stay slim.
McRice Burger is a juicy chicken fillet or beef patty, topped with fresh French lettuce, garlic mayo, and crunchy red cabbage, all sandwiched between fragrant white rice cakes that have been toasted until golden brown on both sides. Priced at around 3 to 4 dollars, it can give your body around 378 calories.
Check out how people enjoy this unconventional burger option
3. McCurry Pan
This is a dish originated from McDonald's India. It contains nutritious and curried veggies baked in a creamy sauce. But here's the fun part: it's all tucked inside a crispy 'paan' made of bread! It's perfect for all veggie lovers out there as it does not contain meat. Trying the McCurry Pan is like having a little taste of India right in your mouth.
However, the food appears to be unavailable in the market right now. But the ongoing demand is a sign that McDonald's should bring back this unique food item.
4. McFalafel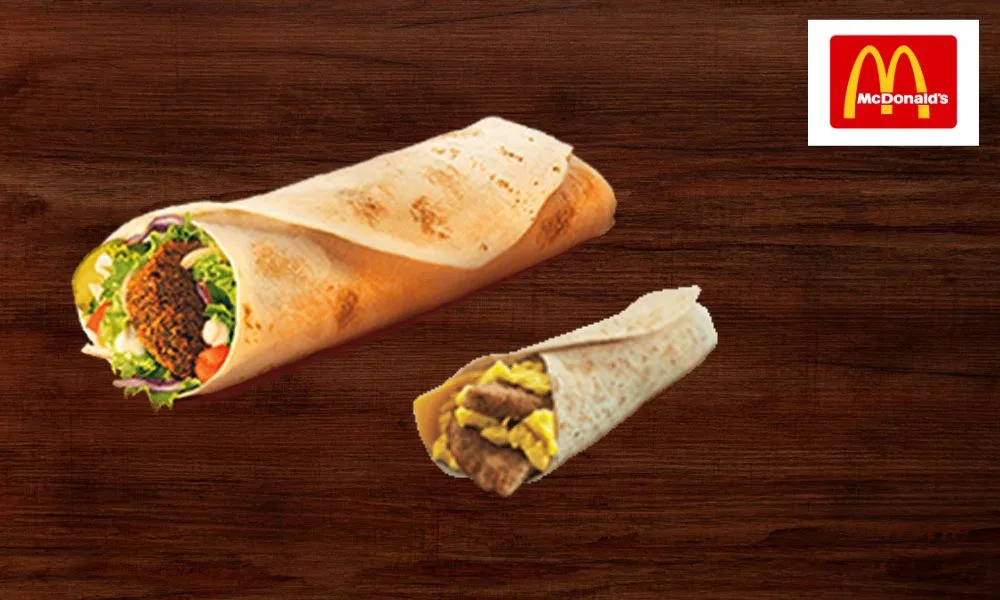 This includes a crispy falafel patty which is an alternative to meat. The flavorful patty is made of chickpeas, herbs, and spices. The topping can include lettuce, tomatoes, and Tehina sauce. If you would like to try out Mediterranean flavors from the fast food category, this could be on your bucket list.
Specially, people living in Egypt enjoy this meal a lot:
5. Bubblegum McFlurry
This will be a feast for sweet-toothed foodies. This McFlurry is a combination of milk, sugar, cream, and corn syrup. On top of it, sweet blue bubblegum syrup and mini marshmallows are swirled into the mix. It's an affordable and delicious treat priced between 3 to 5 dollars.
However, its blue color which is strange for food would not be appetizing for some people. Many people also consider it to be among the top 5 crazy McFlurry flavors:
6. Spam & Oreo Burger
This unique creation originated in China and won huge attention. It is a combination of savory luncheon meat and sweet Oreo cookies.
In a youtube video by Daym Drops, he tries out this unusual burger. According to his experience, it's a mix of strange, crunchy, salty, and sweet. But be warned, the taste of the Spam might interfere with the beloved Oreo flavor, especially if you're a die-hard Oreo fan. Priced at around 2 to 3 dollars, this creation is definitely for the adventurous foodies out there.
7. Green Burger
This weirdly green-looking burger came out as part of a promotional campaign for the Angry Birds movie. To make it more uncommon, it has pork as its main ingredient. Between two vivid green buns, you'll find an egg, lettuce, and a mysterious jalapeño sauce.
There are mixed opinions about the Green Burger. Some people find its taste tolerable. But many others have shown disappointment.
Considering the divisive reactions to the Green Burger, we recommend you try it with caution.
8. McMuffin Cottage Cheese and Radish
This is a menu item that originated in Poland McDonald's in 2019. It features a combination of cottage cheese, radish, and arugula, all between a wholesome wheat bun.
Priced at around 2 dollars, it offers you a budget-friendly option to try something different.
People have shown their love and appreciation for this food item.
9. Taro Pie
McDonald's Taro Pie made its way onto the list of the five craziest McDonald's pies, as reported by USA Today. Its purple filling is made from a tuber called taro, which is rare and only grows in the Pacific Islands. However, the price is as affordable as 2 dollars.
Overall, the opinions on Taro Pie have been positive. One user even made a strange remark that it tastes like purple!
10. Mexican McAloo Tikki
In this, we have to forget the part 'Mexican'. Because this menu item originated in India. Inside of it is the Aloo Tikki Patty, a blend of spiced potatoes and peas. This samosa-spiced veggie patty is sandwiched between a toasted bun. Also, there are tandoori mayo sauce, jalapeños, onion shreds, and sliced tomato to increase the taste.
There's a lot of buzz around the Mexican McAloo Tikki. It includes both trying out the original and recipes.
Sometimes, you might need to step out of your comfort zones to try out these weird menu items. But who knows, you might just discover a new favorite on this list. Or you might hate some of them, which is also worth letting the world know about them.