There is a high chance you are here because you have seen this notorious yet world-famous Emu, Emmanuel on your 'For You Page' in TikTok. Emmanuel is home on a beautiful farm in South Florida named "Knuckle Bump Farms" owned by a 29-year farmer Taylor Blake. She and Emmanuel-the emu became so famous through TikTok and currently they have a whopping 2.5M Followers and 48.1M Likes on TikTok.
Where is Knuckle Bump Farms located?
According to their Instagram, The Knuckle Bump Farms is situated in Southern Florida. The farm is closed to the public as of yet.
A small hobby farm in South Florida full of animals who absolutely despise education, and have a thirst for mayhem.

Knuckle Bump Farms
Taylor Blake's appearance on The Tonight Show Starring Jimmy Fallon
Taylor and her Knuckle Bump Farms gained so much love throughout America and all over the world. She even caught famous TV host Jimmy Fallon's attention as well. Taylor appeared on Tonight Show By Jimmy Fallon last July ( 2022).
Taylor Posted a picture with Jimmy Fellon and her life partner stating that it was "best day of her life" on Instagram.
I am so humbled, I am at a loss for words. Huge thank you to @fallontonight for having me. @jimmyfallon I can't thank you enough for your kindness, you made me feel like I was on top of the world. Today was arguably the best day of my life and I have the biggest lump in my throat while typing this.
What happened to Emmanuel?
Taylor posted on Twitter that her farm was affected by avian flu. And also affected Emmanuel also. They have lost more than 50 birds in 3 days.
We lost 50+ birds in 3 days. I am still trying to wrap my head around it. We thought we were out of the woods, when Emmanuel unexpectedly went down this past Wednesday…💔 pic.twitter.com/OPgts2XVWV

— eco sister (@hiitaylorblake) October 15, 2022
Emmanuel was also affected by Avian Flue and had a bit of nerve damage in Emmanuel's right leg and foot.
We put our brains together and built Emmanuel a sling so that we can start physical therapy with him, in the hopes that he will regain function of his right foot/leg. We have been tweaking and perfecting it over the last 48hrs.

Taylor Blake
After 48 days, Emmanuel completely recovers from nerve damage, and he can walk now.
From barely being able to hold his head up….to standing and balancing on his own, unassisted. It's been 48 days. 1152 hours. 🥲 God is good, feeling very blessed today. LETS GO ETL!! pic.twitter.com/jF3qJg0vJ5

— eco sister (@hiitaylorblake) November 28, 2022
also read: Who is the man behind Wilderness Cooking YouTube Channel?
Knuckle Bump Farms Website
On the Knuckle Bump Farms website, Taylor sells adult, youth, and toddler clothes and hats. Most Knuckle Bump farms merchandise designs are T.shirt t designs with the word "Emmanuel Don't Do it" and their farm logo. Although, Currently their website is in a temporarily closed state.
we are going to temporarily close the website in order to prepare for our next merch drop.
Knuckle Bump Farms members
Emmanuel
Emmanuel is the world's most famous Emu and is the main reason for Knuckle Bump Farms' popularity. The male Emu does amazing things entirely. Knocking into the phone is the thing it does as a help.
Blake tolerates such things and appreciates it when Emu doesn't do that. But, Pecking the phone onto the ground and frequent interruptions to Blake's online classes are the most enjoyable things done by Emu.
"Emmanuel, don't do it!" That is what Blake is murmuring all the time.
Although Emmanuel doesn't care about the people watching him on the other side, people do care. That is why the Knuckle Bumps Farms have a real influence.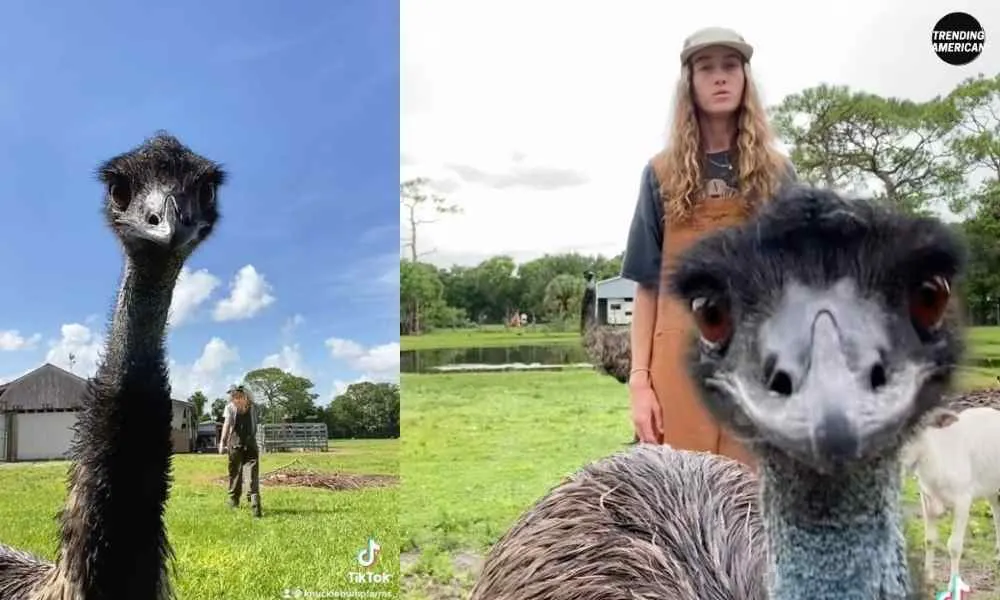 also read: Somers In Alaska Net worth & Latest News You Love To Know
Princess (Deer)
Although Princes, the deer, has not gotten the attention as much as Emmanuel, people love her too. According to Blake, the Princess loses her cool pretty quickly too. In Blake's video "Princess has lost her damn mind," the deer tried to steal Blake's drink, and the video creator did not appreciate that.
The deer tried to stay on two feet for just a drink. Can you believe that? But, as Blake explains about her pets, Princess is not as naughty as Emmanuel but the loving one.
The deer don't like Blake spending much time with Emu at all. Don't forget that the dog is not the only animal with the kindest heart and a wet snout, but Princess, the deer. The smile on her face is adorable, which Blake has captured on a few occasions. Does it laugh?
Rico (Duck)
Rico is another pet of the family, and it is famous for savage attacks. The duck has been attacking the video creator for a long time. According to Blake's comments, the duck has been family since 2016. "I have been with Rick since 2016, and I'm sure it feels me. Just ignore what it does to me with its attacking mode. It is cool," said Blake.
In the 2019 video, the duck attacked Blake, who was trying to interview Emmanuel. It gets on with its two available feet, and the girl has nothing to do except run. According to some people, Rico is an arrogant, playful, childish, and crazy duck who doesn't know any relationship.
Humpty
Humpty is a white-colored cow whom Blake is taking into some of the latest videos. In the "Humpty's safe space" video, she introduces cowling. The calf comes through her legs while Blake stands, which is exceptionally adorable.
According to some comments, they have seen the calf caring for Blake as her mother, which is what a calf usually does. More importantly, Homer, Humpty's friend, is coming in between them. It's like Homer saying, "What about me, mama? Don't you care about me now?".
According to Blake, the calf is a good listener. Whatever she says will be followed by the calf. "That's because of her association.
Homer
Homer is the brown cow member of the Knuckle Bump Farm. He is a combination of fluffiness, cuteness, and the wise. Although Homer is not as playful as other tough guys, he is the cutest, according to many Tik Tok comments.
Homer is intelligent, too, as he sticks with Humpty and teaches good manners. The wet snout is what Homer uses most of the time, and it likes to stay around its owner, Blake. However, Blake is giving hay to the cow early in the moment.
What Homer admires t do is to sniff on Blake. Sometimes, it is an embarrassment to Blake when Homer sniffs on her as well. In the "Someone pooped in the food bowl" video, the cowboy had done something awful, precisely as it sounds.
Taylor Blake
Taylor Blake is the girl behind the Knuckle Bump Farms TikTok channel. There are many ways to name her, such as being an influencer, fashion model, sponsor, and social media sensation. But, the best way to know her is as a TikToker based on Knuckle Bump Farms.
Taylor was born on January 14, 1993, to a Southern Baptist family living in South Florida. Not only were animals her early ambitions, but writing stories in English and reading about various matters. She wrote her first script at the age of 11 years old. Taylor Blake is 5 feet 7, and her weight is 55 kg.
Blake started sharing images in 2013 for the first time, and then she added animals to her farm. She produces videos regarding any matter on the farm, and the next day, they will go viral. Her appearance on The Tonight Show, Starring Jimmy Fallon, impacted her career.
Taylor Blake's Family and relationships
Her parents are from Florida. They were married in 1993, and Blake was born a year after their marriage. Her parents helped her to find the best path she had. Blake has mentioned that her parents still courage her to do the writing.
Knuckle Bump Farms Taylor Blake is not married yet but is in a relationship with Kristian, a girl from her area. She posts constant updates with her fiance on Instagram.
Her parents are aware of this relationship as well. They have been friends since 2006. Kristian Haggerty is an Instagram Influencer who has 158k followers.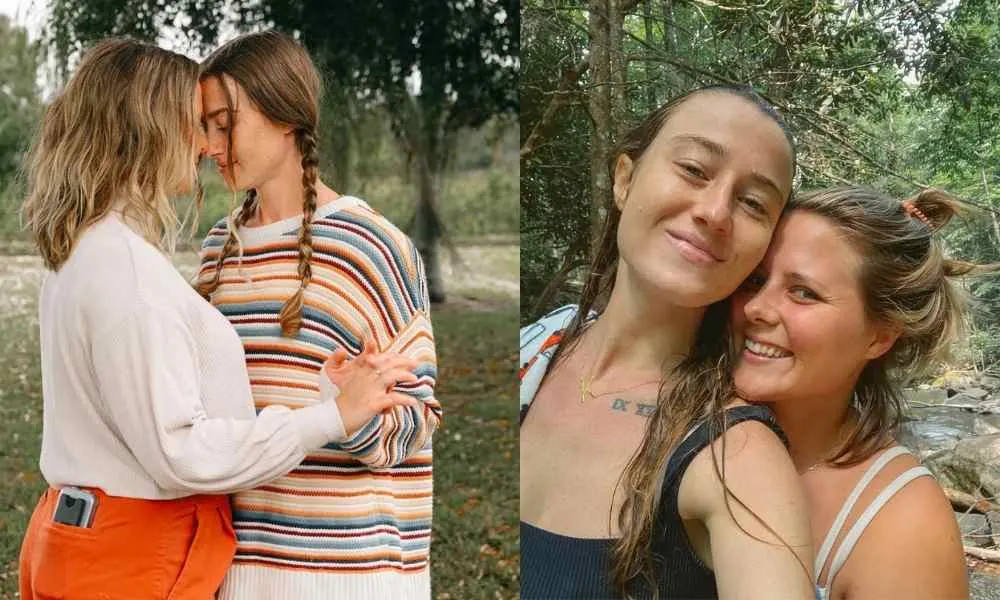 How much is Knuckle Bump Farms' net worth?
Knuckle Bump Farms' net worth is $20,000. And Taylor Blake's net worth is around $250,000. She makes her income from social media influencing, writing, sponsoring, and the income from the farmhouse.
Social Media
Tiktok is where Taylor has succeeded the most, and she has got 2.5M followers and 50M Likes on Tiktok.
And she has two Instagram profiles, one for farm and one for blake. She uses her personal Instagram profile to update her s
FAQs
Who is Knuckle Bump Farms' owner?
The Knuckle bump farms are owned by the Blake family, including Taylor Blake.
Is Knuckle Bump Farms Taylor Blake homosexual?
Yes, she is homosexual. Taylor Blake has been having a homosexual relationship with Kristian Haggerty for more than 15 years.
Related articles